Founding Pastors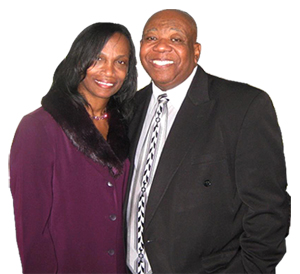 Apostle/ Bishop Dr.Earl Palmer

In 1993, at the leading of the Lord, Pastor Earl Palmer planted Brand New Life Christian Center in the Mount Airy section of Philadelphia. He relocated the church to the Germantown area Philadelphia in 2001. In 2012, he was ordained as an Apostle, followed by his Bishopric ordination in 2014. He has planted churches in Kingston JA, Carlisle PA and Southwest Philadelphia, and also oversees churches in Norristown PA, Northeast Philadelphia, Charlotte North Carolina and the Germantown area of Philadelphia. He has a mandate from God to establish churches in other regions of the world as well. Often described as a pastor's pastor, Apostle Palmer's wisdom and discernment have guided a number of pastors through the governmental challenges of growing their ministries and shepherding their flocks. He has founded "Taking It Back Ministries International", a ministry that trains, equips and empowers apostles, prophets, pastors, evangelists and teachers to overcome the challenges and difficulties associated with ministry, and to more effectively walk in their callings and ministries. He is available to do workshops, seminars and conferences, on an array of topics related to the above, and on occasion he broadcasts via radio and television. Dr. Palmer has studied at Jamison Bible institute, The Center for Theological Studies, and Christian Research and Development Institute. He holds a Bachelors Degree in Mechanical Engineering from Temple University. In 2017 he received an honorary Doctor of Humanitarian Degree in proper recognition of his many years of service to the Lord, contributions to the church, and demonstration of benevolent leadership, and notable ministerial achievement. He is the author of "Crazy Faith", a book which is s testimony to his growth and development in the Lord, and the possibilities available to you when you truly walk by faith, and not by sight.


Prophetess Dr. Maria Palmer

Prophetess Maria Palmer has had the honor of co-pastoring with her husband since the church began in 1993. She has been ordained as Pastor and Elder, and most recently as Prophetess in 2013. She currently serves as Director of Christian education for both adults and children, Women's ministry leader, and directs and teaches in the Brand New Life Bible Institute. She also aids in church administration and trains and equips leaders for the work of the ministry. Having ministered and taught both nationally and internationally, she has been known for decades to encourage believers to "speak life ", and even to pray offensively to terrorize the enemy. Having a great love for the Word of God, her teachings place strong emphasis on its power to deliver and set free. She also ministers in prophetic songs and warfare dance under the leading of the Holy Spirit. Prophetess Maria has completed course work and been awarded certificates from Evangelical Training Association, the Summer Pastors' School at Campbell University in North Carolina, Covenant Institute of Philadelphia, Bethany Baptist Church in New Jersey, and the Elisha Company School of the Prophets in Philadelphia. She holds a Bachelors Degree from Howard University, and a Master of Science degree from Columbia University. In 2017 she was awarded an honorary Doctorate of Humanitarian Degree from Calvary's Cross institute in Florida, for her leadership in the church, and her many years of commitment and dedication to the work of the ministry.

The Palmers have been married since 1975, and are the parents of three adult children. Together they are a team which exercises crazy faith, preaches the Word without compromise, and encourages believers to receive all God has for them in all areas of their lives.